Higher efficiency of internal combustion engines
We are a young, innovative company and break new ground in the design of flow systems for internal combustion engines. We rely on the most innovative development and manufacturing processes in order to be able to implement flow geometries that are as uncompromising as possible and that are based on the physical conditions of nature. Our processes in the development, manufacturing and test phases are carried out with the highest quality standards. Comparisons of our optimized systems with original systems are carried out with well-known partners from the automotive and tuning industries and are statistically verified several times. During the test runs, we always create constant conditions so that the results cannot be falsified. We think it is absolutely right to get the best out of what you have (in this case from your vehicle). In our view, it is time to improve internal combustion engines with all the innovative options that are available today. Perhaps this will also give us a new image for the combustion engine and the tuning scene.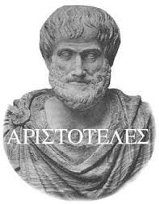 Aristotle: "Nature always creates the best of what is possible!"
Pressure loss reduction through natural geometries
It is already being implemented in some technical areas. In aircraft construction, aircraft carriers are based on the geometry of the wings of birds. But, for example, turbine blades in turbochargers or in gas turbines in gas-fired power plants now also have nature-oriented geometries that are developed with an extremely high level of engineering effort. The progress in innovative development and manufacturing options makes the design of highly efficient flow geometries possible. And that's exactly what we're all about -> More efficiency! If nature-oriented flow systems are developed, the primary goal is to increase efficiency. That is exactly our goal in relation to internal combustion engines.
Higher efficiency
and even more!
When designing flow systems uncompromisingly based on the physical conditions of nature, there are many advantages. The losses in the gas exchange, which are caused by pressure losses (back pressure), turbulence and inhomogeneous flow fields due to unfavorable flow geometries, can be significantly reduced. With air filter boxes, the optimization potential is 30 to 50% reduction in pressure loss. The engine "breathes more freely" and has to do less work to achieve the desired boost pressure.. This is referred to as optimization of the compressor efficiency, which has a positive influence on the response behavior of the turbocharger and relieves its components equally. The overall efficiency increases, which increases the power and torque, not only selectively, but across the entire speed range. The response behavour of the turbocharger is improved. It can also reduce fuel consumption and CO2 emissions under certain conditions.
Higher mass flow
ass flow is often not effective
We are often asked whether we can also enlarge the clean and charge air pipes. Our development concept is based on the primary goal of reducing the pressure loss (back pressure) and thus increasing the efficiency. Larger clean air pipes to increase the mass flow can help, but are not a guarantee for a holistic optimization of the effective efficiency. In fact, increasing the mass flow may reduce performance or torque in some speed ranges. However, we are pursuing optimization across the entire rpm range, which is why we generally refrain from increasing the mass flows. With certain developments, especially in the high-performance area, larger clean and charge air pipes are not excluded.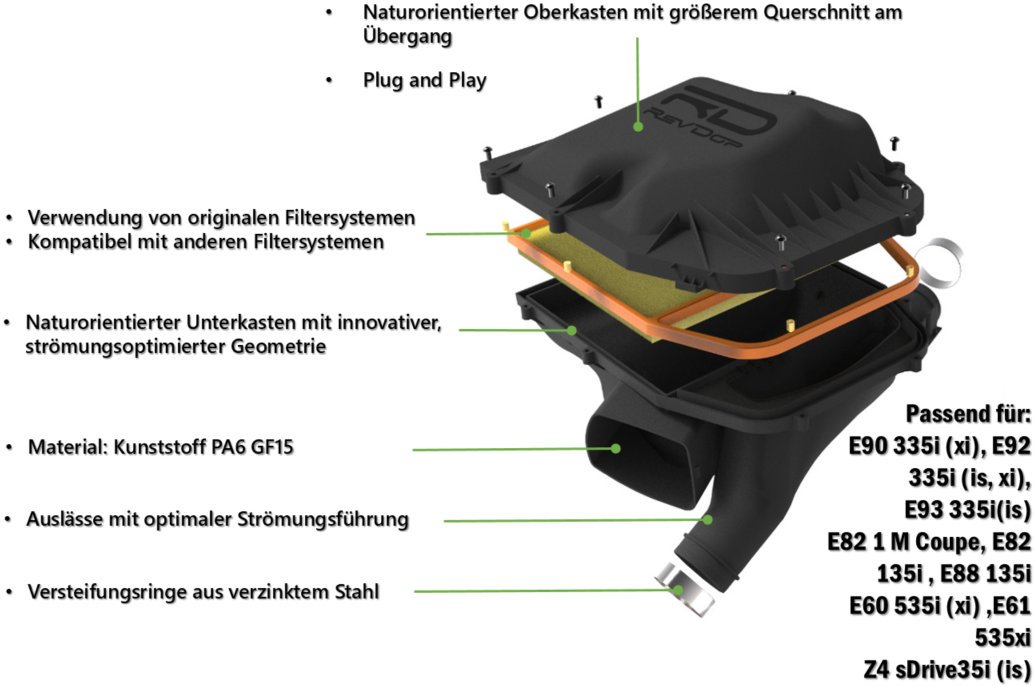 Leistungsdiagramm
getestet mit Bimmertech und EZ-Performance